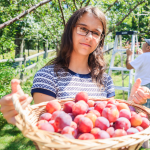 Hello,
Thank you for registering your Fruit and Nut trees in the Exchange and helping ease food shortages in Leon County.
We have received your information and will be contacting you soon to complete the process.
You can expect a volunteer with the Exchange to do a short site visit. During this visit your trees will be inspected and photographed. You will be given information on local and state services that help home owners maintain healthy soil and trees and learn about upcoming tree care workshops. And, if you are a self harvester you will be given a fruit crate from the Fruit and Nut Exchange. Just contact us when you are ready for us to pick up the crate.
Thank you for helping move food forward!
-The Exchange